The Plan:
Quality [kwol-i-tee] – "an essential or distinctive characteristic, property, or attribute that is marked by involvement, concern, or commitment"

The Quality CORETM program is based on a hands-on approach where our client's quality management system implementation is structured to achieve specific corporate goals and objectives.  Our quality system consultants are experienced and RABQSA certified lead auditors.  In addition, we are an ISO 9001:2008 certified consulting firm . . . we take quality to heart!
Over the past 20 years, we have assisted over 220 companies in their quality system implementation initiatives. We have worked with clients ranging from as small as four employees to organizations with over 16,000 employees operating from multiple locations.  Our team has experience in a wide range of industries, including metal & plastic fabrication, tool & die, distribution, specialty equipment fabrication, injection molding, chemical and batch processing, design & development, CAD/CAM, construction, retail services, transportation, and software.
Our Services:
We provide implementation and consulting services for:
ISO 9001 and ISO 14001 Quality and Environmental Management System standards
AS9100, AS9110 & AS9120 Aerospace and Defense Quality System standards
ISO/TS 16949 Automotive quality system standard
ISO/IEC 17025 Requirements for Testing and Calibration Laboratories
ISO/IEC 27001 Information Security Management System standard
Workshops – Internal Auditing, Root Cause Analysis and Corrective/Preventive Action
Quality CORE™ Roadmap: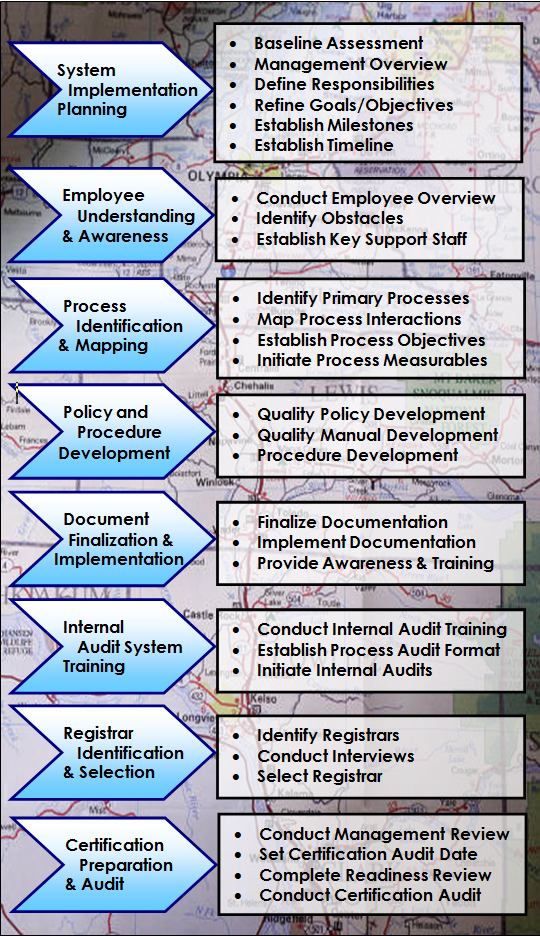 First Steps:
CORE Business Management Solutions is a Michigan-based business advisory firm.  Our team of quality system consultants has used the CORE Quality Roadmap to help over 200 companies with their quality certification programs.  We have the business expertise, industry partnerships and market knowledge to assist your company in your quality system initiatives.  Contact us at 248-496-9844 for additional information or to schedule an on-site review.